Hire a UI UX Designer: Maximizing Engagement with Exceptional User Experience
At Master Creationz, we strive harder to create functional, beautiful B2B web and mobile-based applications while enhancing their usability. You can hire a UI UX Designer as our company's design processes are done keeping the end user in mind. We implement prominent technologies like CSS, HTML5, and JavaScript to retain site visitors. We strive harder to create beautiful, functional B2B applications while enhancing their usability.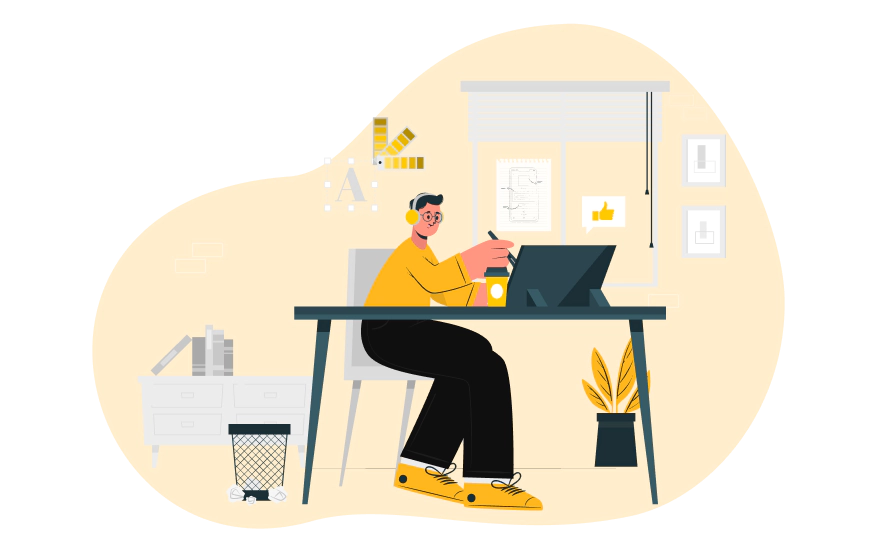 Creating Unique Digital Experiences for Customers with Our UI UX Development Services
Master Creationz is a prominent platform offering the best-in-class result-oriented strategies to bring ideas to life. We aim to aid you in developing rich user interfaces visualizing your requirements across numerous platforms as you hire a website designer through us. Our designs are extremely stunning and functional deliverables due to our technical expertise.

We house a team of the best UX designers having skills in crafting great user interfaces for web and mobile apps. Hire a UI UX Designer now to strategize designs reflecting your brand and needs for boosting conversions. Our experts craft designs reducing the entire maintenance cost to help build a better user experience.
Hire Your Reliable UI UX Partner
We showcase our expertise as you hire a UI UX designer encompassing a massive range of world-class functionalities and features to aid you in becoming an industry leader.
Agile Development Approach
We aim to delight our customers throughout the UX UI design and development phase, striving to deliver the ideal solutions in shorter sprints. We are the leading companies with UI UX designers, as you can hire a website designer with us creating scrum masters and product owners with our agile mindset working closely with customers to enhance ROI and business value.
DevOps
We can assure you of delivering reliable and frequent feature releases for the UI design for enterprise application development. Hire a UI UX designer who uses DevOps for efficient collaboration, software quality, and shorter time to deployment. We even practice constant feedback in DevOps to enhance and deploy application releases.
A dedicated team of UI UX Designers & Developers
Our team of highly skilled cross-functional UI UX design and development experts can aid in strategizing to build solutions using innovative and deep tech practices across every device. We maintain an agile team of the best mobile app IO designers and developers for engaging and professional UI with greater hands-on experience in third-party integration and tech stacks.
Design Practices
You can hire a UI UX designer with us as we follow consistent design practices for the best UI website design throughout the designing and development of your web and mobile apps. We have a lot of experience in minimalistic design, UI prototyping, wireframing, Information Architecture, and UX writing. We aim to create site maps to understand your design goals and eliminate duplicate content. We even follow a few of the best practices to enhance user experience.
Better Client Engagement
We aim to engage with our clients whenever they hire a UI UX designer with us for continuous feedback to deliver solutions to meet the client's requirements. We strive to deliver the ideal solutions, positively impacting businesses with continuous client engagement.
Why Brands Pick Us For UI UX Design Services
Hire Our Experts
Hire a UI UX designer with us if you have a well-defined scope and needs under a fixed price model well-suited for restrictive commitments. With such models, you can frame your requirements and offer inputs to ensure a successful engagement with your project. We are a software product engineering firm specializing in user experience design and best-in-class technologies. We associate with international startups and businesses of all sizes for building, enhancing, and scaling products across platforms to leverage disruptive technologies in web, mobile, IoT, AR, and analytics.
UI/UX design is essential for enhancing user experience and improving brand perception.
When choosing a UI/UX company, consider factors such as portfolio, experience, expertise, team, and client reviews.
UI/UX companies offer services such as user research, prototyping, wireframing, UI/UX design, and user testing.
Experienced UI/UX designers understand the latest trends, best practices, and industry standards.
A well-designed UI/UX can improve user engagement, conversion rates, and revenue.
A UI/UX design for a mobile app should focus on ease of use, intuitive navigation, and mobile-specific features.
UI/UX companies can help establish your brand as modern, innovative, and user-friendly.
Skilled and experienced teams ensure that projects are delivered on time and meet client expectations.
LET'S TALK
Got a project?
We're a team of creative UI UX design experts who are excited about developing unique ideas and helping fin-tech companies to create amazing identities in this competitive world by crafting top-notch UI/UX designs. Book a Free Consultation now!
Frequently Asked Questions
In a UX design process, there is never a universal standard. Various companies, agencies, product managers, and designers follow different approaches, tools, and techniques.
UI UX designers never have to become coding experts; however, they need basic CSS and HTML skills and the ability to make smaller website changes.
UI and UX design is the most vital part of the website. It would improve this aspect of the site, allowing you to attract more prospects and sales, increase conversions and entire profitability, and enhance customer retention.
Scrollytelling, personalization, buttonless UIs, and Data Storytelling are a few of the highly exciting 2023 UI design trends.
A UI developer's main role is translating innovative software design concepts and ideas into reality using front-end technology.
Although there is no immediate danger of AI replacing UX designers, it helps automate a few aspects of the design process.
The UX designers mainly turn the applications into things people like and wish to use. UX designers would measure and optimize every application to enhance the ease of use and create a better user experience by exploring the varied approaches to resolving user-end issues.
The UX design is the main thing in deciding how product experiences would come to life and ensuring that these products are greatly serving the users' needs.