Hire Professional Website Designers and Developers
Hire professional web designers and developers online who will first design your product with an added fine-tuned element by following your brand rules and then develop it. We are committed to producing high-caliber designs resulting from creative thinking and original perspectives from creative minds.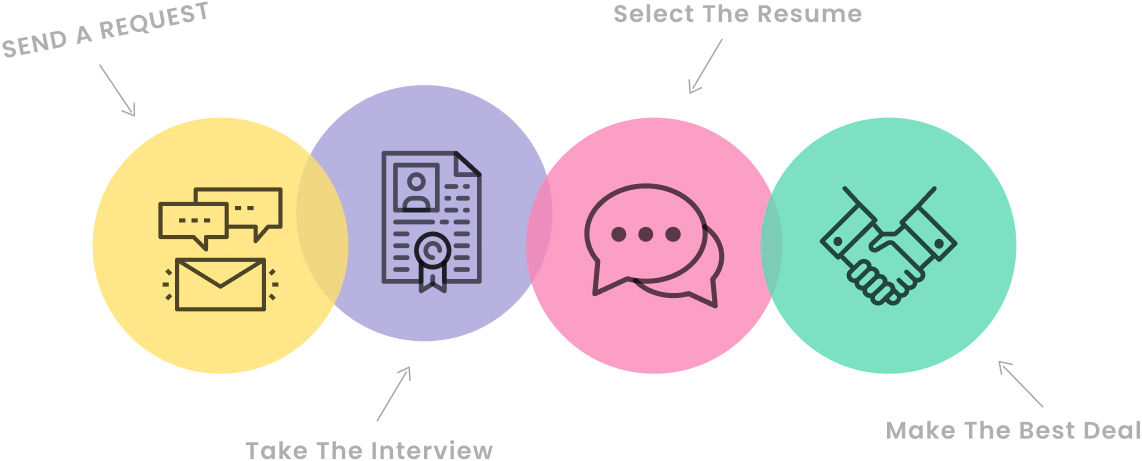 Hire an expert in 4 easy steps:

To ensure you get the most qualified web and app designers India we follow a rigorous procedure.
Maximum effectiveness and quality are guaranteed at every stage of design. So, hire the best designer that understands your problem and comes up with the best possible solution. You are just 4 steps away!
Trusted by World's Leading Brands
As one of the best UI UX Design Company in India, Master Creationz has played a crucial role in shaping the online presence of many high-end companies in a significant way.
Eliminate the long and boring process of sourcing candidates to find the right fit. We have the right designer for you. You can follow the steps and hire a motion graphic designer, web designer, UI/UX designer, or web designer. We have set some hiring standards that you need to follow while hiring designers. Contact us for any query!
Let's have a look at what our clients think about us!
Andre Liem
Founder at Jamthemes
I hired Master Creationz to rebrand my landing page, redo the logo and also provide several design assets. I was very impressed by the quality of work and the level of communication. Master Creationz turned things around within days, was always communicative on a daily basis, and trustworthy. I would hire Master Creationz again.
Vernon Hayes
Founder at Profit Fx
When I searched for a WordPress expert, that is exactly what I got.
The impossible was made possible with their swift work. These guys are the full package - thank you for helping my business today, you guys are legends.
I look forward to using your services again
Eylem Yildiz
National Sales Manager at Healthcare 21
Master Creationz created the design for my webpage. Despite the many changes I requested, he implemented everything fast and to my satisfaction.
I can recommend Master Creationz *****
Nicolas LEHÉ
Affiliates Network Director at Adthink
I can only recommend Master Creationz. Their design is highly inspiring, they deliver in no time, and the support team to follow up on projects is more than just efficient.
Hency Soni
Senior Product Designer at Currencies Direct
Master Creationz are strategic thinkers that generate creative solutions. Choose them for exceptional service, creative value, and professional work.
Interested in working with us?
Looking to build a digital presence for your brand with an award-winning branding agency in India? We would be happy to review your specifications and how you envision your user interface with you.
Book a FREE consultation now!