Top Global UI UX Design Studio: Elevate your Business Scalability
Master Creationz is an innovative digital expert that aids clients in discovering possibilities and measuring whatever matters the most by delivering outstanding digital experiences for the world's leading brands. We aim to bring on the greatest values by fusing the creativity and technology of being the top global UI UX design studio . Our work will make lives highly joyful, convenient, and linked worldwide.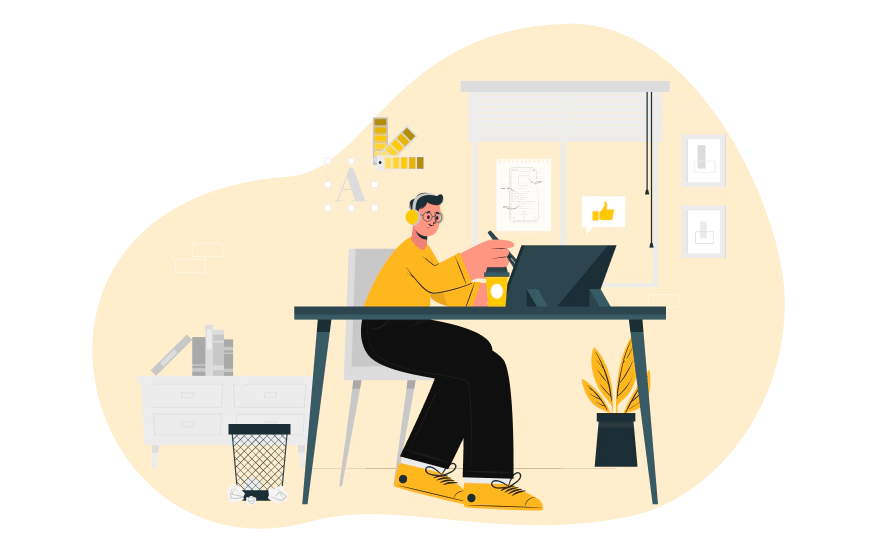 Our Unique Approach to UI UX Design Services
The user's experience with the software interface will make their conversion into potential customers. At Master Creationz, we treat user experience as the blanket term out of the icon and text format choices defining the user journey and user acceptance testing. Being the top global UI UX design studio, we design your digital product by stepping into the users' shoes in terms of what they could click on and the kind of emotions each screen transition can trigger. It even features the representations that would form an entire act.
UX Research
We initiate projects by running a proper design audit of the existing application or performing user reach-out from scratch. Our team comprises efficient mobile app designers for running an end-to-end market with competitive analysis for making plans that revolve around the market's offerings to identify loopholes.
Information Architecture
We associate with our team of developers to build a detailed architecture for the user movements within the application. Being the top global UI UX design studio, we can help plan out each click and where it would take the respective users before you initiate the design processes.
UI Design
At Master Creationz, we have the expertise to create an intuitive user interface right out of the choice of the icons, toggles, and buttons with every visual component into creating to retain user goals with the branding elements under the center focus.
UX Design
We are carrying an entire skillset to build the organic user moving the users from one screen to the other intuitively. Our UX design services will make the users feel at home from within the applications for smoother transitions to the clarities over the next steps.
Wireframe Creation
Being the top Global UI UX Design Studio, we aid in creating visual guidelines for the application in a manner in which it is straightforward for the developers to treat them as the base for the users' movement. The lower fidelity wireframe we are creating within our UI design services will offer you a visual walkthrough of your digital product.
Prototype Creation
We are a notable UI UX design company that has aided several startups to gain the attention of investors at the back of intuitive prototypes. We specialize in designing clickable versions of the applications shared with prospective investors and users.
Mobile and Web Design
At Master Creationz, we have immense expertise in creating user interface designs across several platforms like web, mobile, and wearables. Irrespective of the brand touchpoint, we can ensure that the experienced users gain an identical approach towards every end.
Frontend Development
Our designers work with the team of developers creating the frontend applications. We can make sure that the immersiveness and emotions created across Figma and Photoshop will translate into a seamless end product.
UI/UX Design Optimization
We have thoroughly worked with several clients with existing designs that fail to convert. Our team has efficiency at auditing this design and working towards the changes with distinctive clarity on what the clients and the end users will require.
Why Choose Our Recognizable Services?
Our extensive customer knowledge merged with the help of subject matter expertise to design some memorable products, making us the top global UI UX design studio that creates an impressive impact.
Thorough user understanding Before initiating any project design, we aim to gather a thorough understanding of the client's vision and their user habits and expectations. We go through a complete competitor analysis while tracking the users' reviews and engagement to know about their actions.
Expertise in multiple design tools The digital design industry is continuously expanding, and numerous design platforms have emerged promising as being better than their predecessors. Being the top UI UX design studio, we continue looking out for potential innovative platforms to check how they fit into the experience journey of the client's app.
Varied design styles proficiency Our team of expert UI UX designers deals with each subject matter with expertise to create several distinctive design styles. From the illustrations to the sketches or the line drawing, we have distinctive skills to make our clients' brands unique across the digital sphere.
Multiple engagement models We are offering highly customized models of engagement to our clients. We have room to address both in varied payment modes, whether you require only the designers or the entire team of developers. We offer our clients better freedom in selecting the approach to this partnership.
UI/UX design is essential for enhancing user experience and improving brand perception.
When choosing a UI/UX company, consider factors such as portfolio, experience, expertise, team, and client reviews.
UI/UX companies offer services such as user research, prototyping, wireframing, UI/UX design, and user testing.
Experienced UI/UX designers understand the latest trends, best practices, and industry standards.
A well-designed UI/UX can improve user engagement, conversion rates, and revenue.
A UI/UX design for a mobile app should focus on ease of use, intuitive navigation, and mobile-specific features.
UI/UX companies can help establish your brand as modern, innovative, and user-friendly.
Skilled and experienced teams ensure that projects are delivered on time and meet client expectations.
LET'S TALK
Got a project?
We're a team of creative UI UX design experts who are excited about developing unique ideas and helping fin-tech companies to create amazing identities in this competitive world by crafting top-notch UI/UX designs. Book a Free Consultation now!
Frequently Asked Questions
Surely we do this. We are experts in seamlessly stitching designs and technology with a rapid go-to-market solution, whether a web app, mobile app, or website.
We often get involved in the beginning stages, where the clients have well-thought-through differentiating ideas at the top-most levels. We use our unique design process, where our team will help you bring the entire concept to life.
In the agile work environment of recent times, collaboration has become the key to the successful delivery of the project. On average, we collaborate with about two to five people for the project.
It is tough to insert numbers without checking out the detailed requirement and knowledge of your expectations. We can help create designs for both Android and iOS in about eight weeks.
We require a detailed document to determine the cost, as we have blended rates for every service.
UI and UX consulting follows a holistic approach to improving the user experience based on the business's objectives, the users' perspective, the UX consultant's domain expertise, and more.
The UI and UX designs can aid in achieving a sound reputation for the brand by offering you a better chance of having happier customers.
The analyst's primary role is deeply rooted in the research, as their primary goal is to study the users' needs.