UI UX Companies in Chennai: Delivering the Most Compelling & Intuitive Designs
With great expertise, we can help simplify the interactions between the target customers and our client's digital presence. Our design offers a distinctive digital experience on the website, email campaign, mobile application, social media campaigns, or even an Ad banner. Master Creationz is one of the best UI UX companies in Chennai that have allowed our clients to create the most compelling presence over digital media that spurs customer loyalty and therefore enhances the brand values.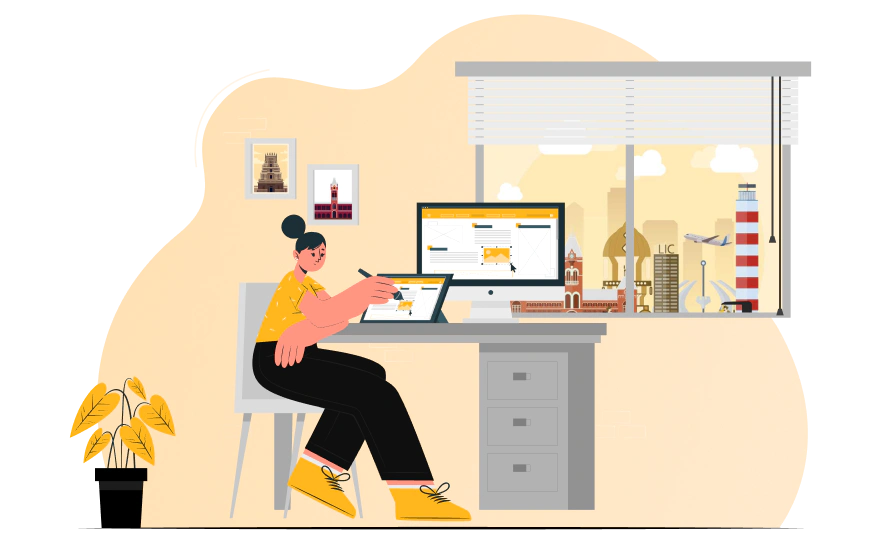 Adding Greater Context to the General User Behavior Resonating with Brand Values
Our UI and UX services go beyond aesthetics to being user-focused and content-based by focusing on user behavior and their interaction with the different applications. We strive to deliver user experience as one of the best UI UX companies in Chennai to enhance engagement, brand recall, and usability to build hyper-personalized experiences.

Our Team of UX experts, strategists, visual designers, and information architects inspects the better constellation of the audience touch points for crafting the most creative UI/UX experiences.
Ingenious & Innovative UI UX Design Services
The best UI and UX companies in Chennai at Master Creationz strive to offer services for your mobile and web-based applications, creating stronger business identities.
User interface (UI) design
As mentioned, designers and design services aim to establish interfaces for software applications, making things easier for users to navigate and operate their way into the apps. Alternatively, it comprises visual components like icons, colors, texts, buttons, etc.
User experience (UX) design
The UI UX companies in Chennai offer UX design services for enhanced user experience by elevating the responsive and interactive software application through the seamless flow of navigation, functionalities, and accessible features along with the rest. Most user experience companies would ensure that digital products are effective, enjoyable, and easy for customers.
Wireframing and Prototyping
Wireframing and Prototypic comprise building a sample work model for the website or application to test its usability, functionality, and design before delivering the real app to the end user. As an outcome, the designer would identify the issues and locate the possible solutions serving the aim of the applications.
Visual design and Branding
Visual design is the vital component implemented by the UI UX companies in Chennai to assist in defining the firm's Branding and influence the user's behavior. It would enhance the aesthetic appeal of the software application with images, icons, colors, typography, fonts, etc. alternatively, and they would optimize the user experience with the placement of the features in the right way across the application or the website.
Interactive Design and Animation
Adding the UI components and designs onto the application would make it highly responsive and interactive. It would guide our designers of one of the best UI UX companies in Chennai to build the interface to help the users navigate the applications while understanding the link between the elements. As a consequence, the components of UI will boost human-computer interactions.
Accessibilities
UI UX companies in Chennai ensure better accessibility of the applications to every user irrespective of their capabilities and related conditions. Alternatively, it allows digital content to be reached out to and used by users. Therefore, considering accessibility would appear best for the visual designs using the color, links, heads, navigation, and more.
Why Brands Pick Us For UI UX Design Services
At Master Creationz, we stand out from the rest of the companies whenever it arrives to our experience with UI UX designs.
Our Agile UX design and development services help us stand out as one of Chennai's best UI UX companies.
Atomic style and design guide for building accessible UI following standard compliances
Award-winning development and design solutions
Communicative and collaborative approach strategies for boosting client engagements
Competitive rates for the top-rated UI UX design expertise
Cross-functional team of experts having well-defined knowledge of UI and UX design services
We stand out as your user experience design associates establishing ideas for implementation
Our work is inspired by extensive insights, strategies, and data
Accurate testing and idea validations throughout the phase of design and development
Reliable and successful track record for better project deliverables
UI/UX design is essential for enhancing user experience and improving brand perception.
When choosing a UI/UX company, consider factors such as portfolio, experience, expertise, team, and client reviews.
UI/UX companies offer services such as user research, prototyping, wireframing, UI/UX design, and user testing.
Experienced UI/UX designers understand the latest trends, best practices, and industry standards.
A well-designed UI/UX can improve user engagement, conversion rates, and revenue.
A UI/UX design for a mobile app should focus on ease of use, intuitive navigation, and mobile-specific features.
UI/UX companies can help establish your brand as modern, innovative, and user-friendly.
Skilled and experienced teams ensure that projects are delivered on time and meet client expectations.
LET'S TALK
Got a project?
We're a team of creative UI UX design experts who are excited about developing unique ideas and helping fin-tech companies to create amazing identities in this competitive world by crafting top-notch UI/UX designs. Book a Free Consultation now!
Frequently Asked Questions
The steps one should take to hire UI UX companies in Chennai are very straightforward. You just have to send over your project requirements. Based on this, we would share the profile of our best candidate whom you can consult with. The shortlisted representative gets deployed to work as your offshore team associate.
You can easily hire our UI/UX designer for a specific task or project based on your requirements.
Numerous factors, including the complexities of the app, number of pages, designs, and advanced functionalities, play a pivotal role in determining the cost of hiring one of our specialists.
Yes, we assign a dedicated designer to work exclusively on your project.
We understand that the appropriate product design would aid the firms in achieving the quantifiable business goals. We include the development teams in the designing phase and pay closer attention to the technical aspects. We even hold the development handover meetings once the new feature gets designed. We would always stay in touch with the developers to ensure the design implementation appropriately.
Master Creationz, one of the best UI UX companies in Chennai, would ensure that every client will get the timesheet reports with comprehensive access to the management tool for the project based on the client's needs. We even supply you with daily or weekly reporting.
‍We would dedicate highly suitable research and design experts to work full-time as the extension of your team designing products. Our UI UX professionals will meet with your team to start the workshop to learn more about your business aim and industry.
The UI UX companies in Chennai will operate along with the industries involving web development offering services and products to the customers.
As a well-versed UI UX design company, we offer the best services, including Branding, mobile app design, responsive web design, promotional designs, and user experience consulting using the latest technologies and tools.