UI UX Companies in India: Elevate User Interactions and Boost Sales with Attractive Designs
Master Creationz assists brands in navigating almost every facet of the digital landscape with the client-focused user and customer experiences designed to have highly engaging user interfaces and deliver corporeal business outcomes. As one of the best UI UX companies in India, our areas of specialization includes crafting smoother and more striking UI/UX designs offering enhanced user experience by implementing potential collaborations and streamlining projects for the best outcomes.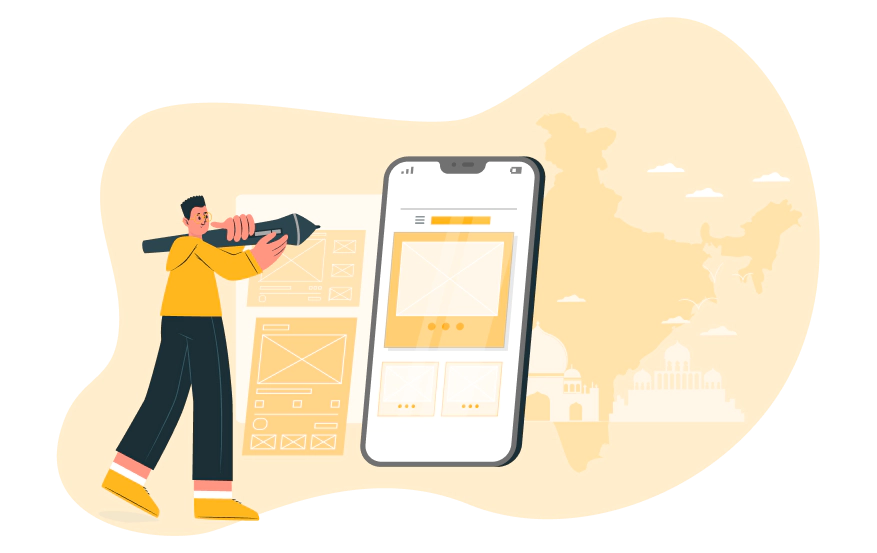 Avail the Best UI UX Development Services to Create Sensational Designs
Master Creationz is one of India's best UI UX companies to help add designs and visual displays to your contexts to boost brand values.
Research & Analysis
Our creative and customer-centric UI UX designers begin by understanding the requirements of the end users. Our team maintains the user journey and flow in mind while undertaking extensive real-time analysis and research, creating the basic wireframe work.
UX Designing
The expert designers at UI UX companies in India specialize in creating intuitive and engaging user interfaces for disruptive websites, web apps, and mobile applications. We assist you in creating a massive range of user flows across a specific product enabling users to access it conveniently.
UI & Design Interactions
As the leading UI UX design company, we make sure of the first impression of your website, creating a positive visual outlook. We shape the UI design to narrate a story for your brand that creates the most immersive customer experience.
Mobile-First Responsive Design
As part of the continuous trend across the digital space, we aim to design responsive websites for tablets and smartphones. With mobile adaptable and responsive designs, you can now gear up to generate something valuable for the customers.
Mapping Customer Journey
Using trending personas as the basic reference, we strive to create a seamless flow of mapping customer journeys across various stages. Our team builds effective designs offering a smoother user experience.
Customer-focused consulting
A user-centric website or mobile app design would ensure a seamless online customer experience. To make this happen, our consultants can connect with the users to better understand their requirements.
Rapid Prototyping
A Prototype is worth describing your vision's design at the early stages of designing. We would create the MVP or the minimal viable product that showcases the first elements of the design while gathering real-time user feedback. We can help you create the best design elements to get this done.
User Testing
As one of India's best UI UX companies, we allow user-centric Testing to gather disagreements and design flows. We also acknowledge the attitude and behavior of customers to make distinctive changes. Getting this done would enhance the design quality while unifying the aims accordingly.
How We Think, Design & Implement them In Our Approach?
The primary forte of India's top UI UX companies is creating value out of each section or page with our user-friendly design processes. We leave no stone unturned to complete this and follow the in-depth strategic design processes.
Illustrating our Objective
As one of India's best UI UX companies, we would initially define the better customer objective to define the specific design standards. We will keep them a human-based approach to initially create an additional design strategy.
Stages of Ideation
After creating the end product of a website or the mobile add design aim in mind, we begin the ideation stage with the assistance of our tools and tactics. Our team would start creating the roadmaps while retaining the customer mapping journeys at its core.
Building a Robust Prototype
We strive to create a result-based and initial design phase for the prototype before designing the end product. It mainly gets done to note the first-hand experience of the website design, gather feedback, and perform the required altercations.
Optimization and Testing
Using diverse technologies and tools, we aim to finetune the design components maintaining the upscale level of user experience. Our team of experts will help remove the bugs, fix alignment issues, and design the irregularities and the rest of the loopholes.
What Makes Us an Exceptional UI UX companies in India?
We Design To Add Value to Your Business : We aim our designs mainly to offer interactive pattern experiences beyond aesthetics or enhancing reliability.
Thinking Out-of-the-Box:Each client has their design requirements, and we undertake each differently, delivering the best experiences.
Building personalized customer experiences: We strive to build hyper-personalized experiences enhancing user engagement levels.
User-Oriented and Usability Designs : Our team of creative designers at the best UI UX companies in India focuses mainly on meeting the users' needs, objectives, and goals across each design phase.
UI/UX design is essential for enhancing user experience and improving brand perception.
When choosing a UI/UX company, consider factors such as portfolio, experience, expertise, team, and client reviews.
UI/UX companies offer services such as user research, prototyping, wireframing, UI/UX design, and user testing.
Experienced UI/UX designers understand the latest trends, best practices, and industry standards.
A well-designed UI/UX can improve user engagement, conversion rates, and revenue.
A UI/UX design for a mobile app should focus on ease of use, intuitive navigation, and mobile-specific features.
UI/UX companies can help establish your brand as modern, innovative, and user-friendly.
Skilled and experienced teams ensure that projects are delivered on time and meet client expectations.
LET'S TALK
Got a project?
We're a team of creative UI UX design experts who are excited about developing unique ideas and helping fin-tech companies to create amazing identities in this competitive world by crafting top-notch UI/UX designs. Book a Free Consultation now!
Frequently Asked Questions
The primary difference between UI and UX design is that UI aims at pixel-perfect digital designs. In contrast, UX focuses on every user interaction throughout the company. Some service designs might appear as a fresh term; however, they are merely a superset of the UX design.
The UI UX companies in India implement varied forms of UI design; however, three prominent ones are the voice user interface or VUI, menu-driven, and graphical user interface or GUI.
UI would stand for the user interface. It is the best point of contact between computers and humans. Any kind of technology you interact with, being the user, is a portion of the user interface.
The UI and UX designs can aid in gaining a better reputation for the brands by offering you a chance to have more satisfied customers.
The service design relates to the process simplification businesses use to interact with customers and users. Two different disciplines might appear identical, but they are two varied design categories.
There are three primary specialties across UX designs: visual, interaction, and information architecture. The interaction design would aim at how it aims at the user interactions with the service or product. It would include the design for the user interface, like the buttons and menus.
There are normally 4 main phases involved in the service design that includes alignment, ideation, research, and Prototyping.
No, coding is not involved. UI and UX design is one of the several non-technical roles in tech that do not involve coding or programming skills.