UI UX Design Companies Mumbai: Result-Oriented Design Services for Your Software Product
Design arrives intending to deliver the best user experience, and it would highlight the brand, products, services, and business identity. UI UX design companies in Mumbai can aid users in getting around, predicting, and completing tasks. At Master Creationz, we can help turn your project ideas into awe-inspiring UI UX design exceeding user expectations at our agency. We can help in creating the desired presence of your brand!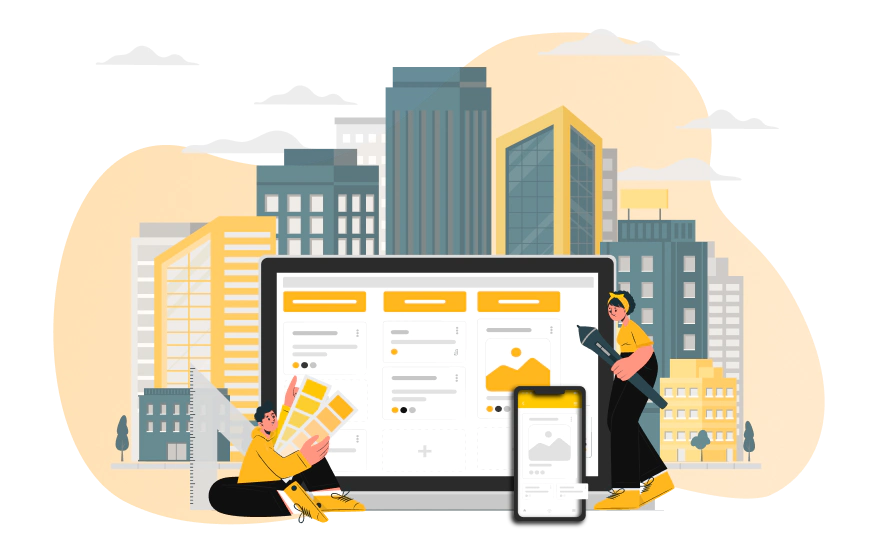 Importance of Our UI UX Designs
Master Creationz, one of Mumbai's best UI UX design companies, aims to establish a robust brand identity for its clients through our out-of-the-ordinary UI UX design services. Our primary task is to analyze the client's business persona and align the business goals through strong UI UX design and development services.

Our bespoke product development processes with superior coding quality help to leverage the design elements inclined toward the business requirements of our clients while leaving no room for risks. We offer the best-in-class designs assuring greater smart user activation and conversions in business.
Our Approach towards UI UX Design Services
Research and Strategizing
Being one of the best UI UX design companies in Mumbai, we are offering an in-depth evaluation of business needs gets done along with the mapping of competition for devising the strategic blueprint to determining the aesthetic objectives towards the design.
Informative Architecture
Our main focus lies on our UI UX design and development services, including usability. Our design elements are established in a manner where they would guide the user base to meet their end goals.
Wireframing and Prototyping
We design an elaborative roadmap displaying the positioning of the design elements in greater detail. Our clickable prototype displays precise structural flows.
Visual Design Element
Being one of the best UI UX design companies in Mumbai, we have started integrating the design philosophy into our interface to comprehend the psychology of the user, which is highly interactive and visually attractive to the actions we undertake.
UI Development
We effectively align your vision into our design architecture, acknowledging the design interfaces' usability, interactive quotient, and functionality.
Usability Testing
We can help maintain creating clean codes for building value-driven customer-centric interfaces building ROI for our clients to help promote better user interaction.
What Makes Our UI UX Design and Development Services Best-in-Class?
Customer-Centric
Master Creationz is one of the best UI UX design companies in Mumbai, integrating UI UX services focusing on structuring ROI for clients and improving user interactions by organizing the requirement of businesses with the design elements. Our top-notch concept gets employed for crafting futuristic and agile designs.
App Platform for Better User Interactions
Our components in design aim to improve a strong and continued interaction with the optimal number of steps and user-based integration to reach the aim of users.
Delivering Top-Quality Solutions
Our off-the-shelf UI UX solutions are designed by imagining the scope for the tech adaptations, plug-ins, and risk mitigations. Our UI UX services are leveraged strategically, creating a user-friendly and expansive interface.
Enhanced Customer Support & Testing
As one of Mumbai's best UI UX design companies, we implement smart, agile, and interactive designs across numerous platforms and devices. The scalability and usability of our solutions in terms of the components and navigation are tested thoroughly.
Why Choose Our UI UX Design Services?
Vast Industry Experience:Master Creationz comprises an expansive idea regarding Microsoft-endorsed design interfaces being the legacy UI UX Design Company, ensuring the optimized development lifecycle.
Proven Track Record:We maintain a legacy to create highly aligned, visually appealing, value-induced UI UX designs, owning to our membership with Microsoft.
Best-in-Class Research and Analysis:Extensive analysis of the clients' business requirements goes hand in hand with smart competition mapping building the optimal and targeted user interaction models throughout the platform.
Complete Development Cycle: We ensure end-to-end development with the help of UI UX design companies in Mumbai, offering complete ownership to the client. The tested and smoother deployment and post-deployment care arrive as a perk.
More Scalable Solutions:We keep a razor-sharp aim to build an ROI to ensure that our UI and UX designs are adaptive to change the business requirements to be adept at upscaling to future developments.
Agile Front-End Development Services:Being one of the best UI UX design companies in Mumbai, we offer smoother functionality for UI UX solutions and reduce errors through the developmental stages.
UI/UX design is essential for enhancing user experience and improving brand perception.
When choosing a UI/UX company, consider factors such as portfolio, experience, expertise, team, and client reviews.
UI/UX companies offer services such as user research, prototyping, wireframing, UI/UX design, and user testing.
Experienced UI/UX designers understand the latest trends, best practices, and industry standards.
A well-designed UI/UX can improve user engagement, conversion rates, and revenue.
A UI/UX design for a mobile app should focus on ease of use, intuitive navigation, and mobile-specific features.
UI/UX companies can help establish your brand as modern, innovative, and user-friendly.
Skilled and experienced teams ensure that projects are delivered on time and meet client expectations.
LET'S TALK
Got a project?
We're a team of creative UI UX design experts who are excited about developing unique ideas and helping fin-tech companies to create amazing identities in this competitive world by crafting top-notch UI/UX designs. Book a Free Consultation now!
Frequently Asked Questions
UI UX design can aid in achieving a better reputation for your brand by offering you a better chance to offer happier customers. Customers being satisfied with the services or products become loyal to branding.
Although UX design focuses on the entire user experience, which includes accessibility, usability, and sustainability of the product, UI design aims at the interactive and visual parts of the digital product, like the buttons, layouts, and text. UI UX design companies in Mumbai can collaborate to generate digital products that are attractive, simple to use, and pleasurable.
The firm aims to craft a better user interface or UI and user experience UX designs across varied digital products, including the apps and websites commonly considered the UI UX design company. The main goal is to ensure the digital products they are designing are engaging and user-friendly for the intended audiences.
UX aids the users in accomplishing their goals, with UI creating a link between the user and the service providers.
UI UX designers are more responsible for user interface, user experience, and visual product design.
UX design plays a highly pivotal role in making decisions regarding better product experiences coming to life to ensure that the product meets the users' requirements.
It is vital to know that both UX and UI go hand in hand, as you will not have one without the other.
The UI UX designers are solely responsible for collecting, researching, investigating, and evaluating user needs.