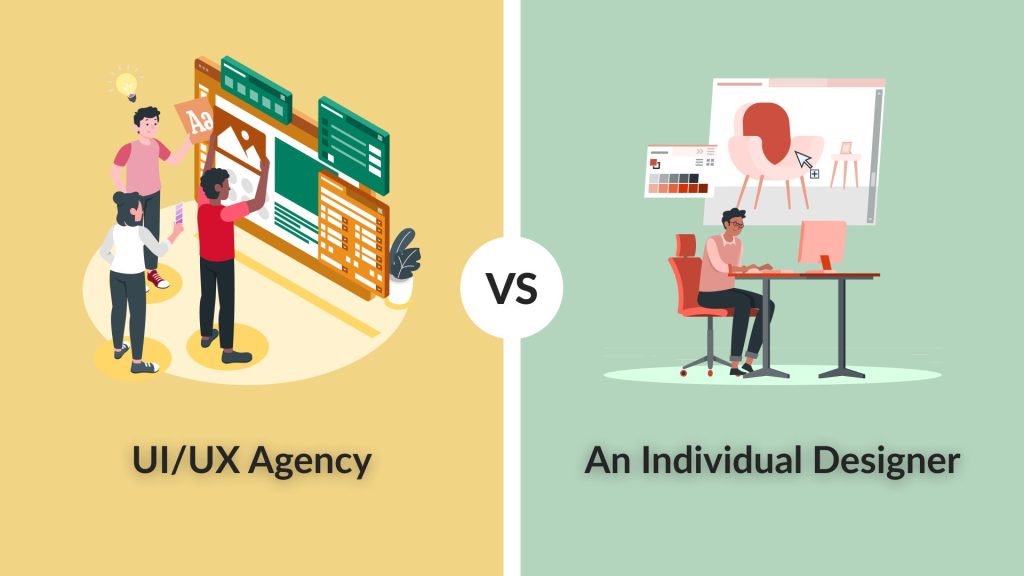 The prosperity of your startup hinges on effectively drawing in and maintaining customers, where both user interface (UI) and user experience (UX) play critical roles. Choosing between an individual or an agency for your UI/UX design needs can be a tough decision. In this blog post, we'll delve into the pros and cons of each alternative, assisting you in making a well-informed choice for your business.
Hi, I'm Ankush Thakur, and let's dive into this blog that will guide you in making better choices for your business. To demonstrate our expertise on the subject, feel free to visit our WEBSITE.
Individual UI/UX Designer
Working with an individual designer allows for closer collaboration. You'll have a single point of contact and gain a deeper understanding of your designer's process and design philosophy, which is especially valuable when building long-term relationships.
Individual designers are generally more affordable than agencies, making them suitable for startups on a tight budget. As freelancers, they often offer greater flexibility with their time and can be available when needed.
However, individual designers may have limited experience with complex projects or collaborate with larger teams. This could be a drawback if you need a designer who can work seamlessly with your development team or develop a comprehensive design strategy.
UI/UX Agency
Agencies tend to be pricier than individual designers but provide significant value. Their multiple designers can offer a wider range of design services, including user research, wireframing, and prototyping. They are also more experienced in working with large teams, enabling them to develop comprehensive design strategies and collaborate effectively with your development team.
Agencies often have established design processes, ensuring projects are completed on time, within budget, and to your satisfaction.
However, agencies may not be the best choice for businesses with limited budgets due to their higher costs.
Choosing the Right Option for Your Startup
Your specific needs and financial situation will determine whether an individual designer or an agency is best for your startup.
If you're looking for a cost-effective solution and have a one-time project, an individual designer could be ideal. However, if you require a comprehensive design strategy or assistance coordinating with your development team, an agency might be a better fit.
When choosing between an individual designer or an agency, consider the following factors:
Portfolio: Seek designers or agencies with portfolios that match your needs and design preferences.
Experience: Assess the designer or agency's experience with similar projects or in your industry.
Process: Familiarize yourself with the designer or agency's design process and their approach to your project.
Communication: Ensure you are comfortable with the designer or agency's communication style and responsiveness.
Budget: Weigh the costs of working with an individual designer versus an agency and understand the associated expenses.
Conclusion: Recap
Picking the appropriate designer or agency is crucial for your startup. By assessing your choices and determining the ideal match for your particular requirements and financial constraints, you can enhance your product's UI and UX. Equipped with a strong UI/UX design approach, your startup will be primed to captivate and keep customers, guaranteeing success. Examine the advantages and disadvantages, contemplate your alternatives, and make a prudent decision. Happy designing!
Master Creationz, a UI/UX agency based in India with a global presence, can help you achieve your desired goals (CLICK).